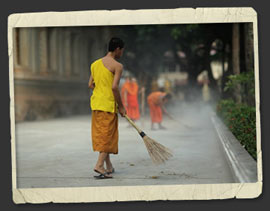 A walk along Settathirat Road will take you past several of Vientiane's most famous temples. At the top of the road (turning right from Lani's House by the Ponds) is Vat Inpeng with large gardens and interesting murals. The next temple along the road is Vat Ong Teu, one of the most important in Laos. Home to the Deputy Patriarch of the Lao Sangha (monastic order), monks come from all over the country to study the Buddha's teachings here. Moving into town, other temples along the road include Vat Hatsady and Vat Mixayaram.
All the roads on the far side of the street from Lani's House by the Ponds lead to the Mekong River and pass a variety of restaurants and bars. Along the riverfront are a Chinese temple and the Chao Anou Park, featuring a statue of the last King of Vientiane, Chao Anou Vong.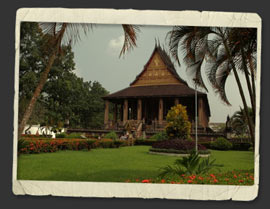 Further along Settathirat, on the left-hand side, you will come to the Nam Phu (fountain circle), now fronted by bars and restaurants. The Nam Phu is the old official centre of Vientiane – the main post office and market used to be located around the circle. Opposite the fountain is the National Library.





K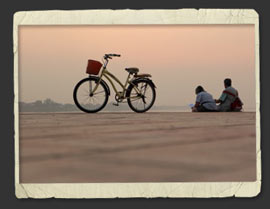 eep following Settathirat Road across the bottom of Lan Xang Avenue and you will pass Hor Kham (the Presidential Palace) and come to two temple museums, Vat Sisaket and Hor Phra Keo. Vat Sisaket, on the left-hand side of the road, is the oldest surviving temple in Vientiane and features thousands of ancient Buddha images. On the right, Hor Phra Keo is the former home of the famous Emerald Buddha, currently kept in Bangkok, and now houses artefacts from across Laos.
Within walking distance
Lao National Museum - spend an hour or two learning about Laos in this former palace. Ask at the Front Desk for directions.


Patuxay Victory Monument – surrounded by fountains and a park, the Lao Independence Arc de Triomphe can be climbed for a good view of the city.


That Dam - ancient stupa encircled by restaurants and wine shops.


Vat Si Muang and the City Pillar, Vat Chan, cultural dance shows.